"If there has ever been such a thing as a genius in the history of popular music, it's Beefheart," "I heard echoes of his music in some of the records I listened to last week and I'll hear more echoes in records that I listen to this week."  John Peel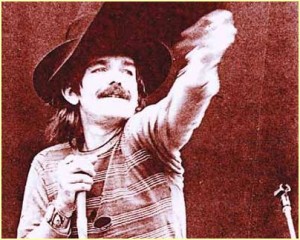 It seems odd to feel compelled to write in tribute to someone who stopped making records when I was 11 years old, but normal rules never applied when referring to Don Van Vliet, better known as Captain Beefheart. A quick check of his Wikipedia entry lists the musical genres he worked in as follows:
Experimental rock, blues, blues-rock, avant-garde, psychedelic rock, progressive rock, protopunk, surrealist, outsider
although anyone familar with his work will find even this sprawling list inadequate to describe the Captain's work, mainly but not exclusively encapsulated on 12 studio LP's recorded between 1966 and 1982 after which he did what so many of his 1960′s contemporaries failed to do and decided that he had said all he wanted to say and retired from music to become a respected artist.
In this sense, this is the second time that we've lost him and I always felt that the blow of his eventual demise would be cushioned by the fact that as a "Beefheart fan-boy" (in the immortal words of Tez Burke) I had long since resigned myself to not hearing any new music from the great man.
That said, I find myself still feeling bereft that there will no more be the occasional flicker of hope that came with his rare public utterances such as a phone interview conducted with unlikely Beefheart fan Bono in Mojo magazine a few years ago or 2003′s appearance on a benefit LP called "Where We Live: Stand For What You Stand On" which featured a 35 second snippet of Don singing 'Happy Birthday" down the phone to the LP's compiler Mike Kappus. The fact that this remains amongst my favourite recordings of that year is either a testament to the uniqueness of the Captain's voice or to me being a sad Beefheart completist.
Either is fine by me.



Like most genuises Beefheart could be difficult, even bullying in his persuit of his unique musical vision and stories of him depriving the Magic Band of their liberty in the house where his masterpiece "Trout Mask Replica: was recorded abound. Whether the fact that the resultant LP was the crystalisation of his vision and remains one of the most devisive records in popular music history justifies this is not for me to say.
A rambling melange of poetry, delta blues , free jazz improvisation and just plain oddness, songs from Trout Mask Replica don't turn up very often in Solid Gold 60′s roadshows at the Scarborough Futurist and Beefheart tribute bands are hard to find, but it remains one of the only LP's of it's time to challenge the idea of what music could be and extend it's boundaries beyond anything that had been attempted before.
It's reference points are as much an aural representation of the abstractions of Dali or Magritte as they are Howlin' Wolf and Ornette Coleman.
Even now, in the "seen it all done it all" 2010′s it is jaw droppingly ambitious and defies description in mere words.
And speaking of words – not only should Beefheart be lauded by anyone who loves the grainy crunch of PJ Harvey or The White Stripes, but also anyone who loves words for the sake of them.
Vast tracts of non sequiturs are bulldozed together culminating in lines like the infamous
"A squid eating dough in a polyethelene bag is Fast and Bulbous. Got me?"
But this is not mere Burroughsesque cut up experimentalism with a glint in it's eye. Beefheart also created the heart rendingly simple "Veteran's Day Poppy" as the last track on this LP telling the story of a mother's grief over her son killed in an unspecified war.
I cry but I can't buy
Your Veteran's Day poppy
It don't get me high
It can only make me cry
It can never grow another
Son like the one who warmed me my days
After rain amd warmed my breath
My life's blood
Screamin' empty she cries
It don't get me high
It can only make me cry
Your Veteran's Day poppy
Reading this piece back I appear to have focussed singularly on "Trout Mask Replica" as the disitallation of all that is great about Beefheart and this is so, but there are many many more flashes of obfuscating genuis to be found on his other studio, compilation and live LP's ("Merseytrout" – a recording of a scintillating live performance at Liverpool's Rotter's Club in 1980 being the pick of the live bunch),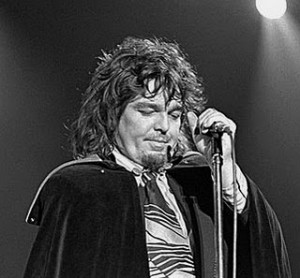 The staggering debut LP "Safe As Milk" contains probably the greatest opening track of all time in the corruscating "Sure Nuff N' Yes I do" and is a good primer to the world of the Captain , follow this with the sophomore "Strictly Personal with it's hypnotic 8 minute rendering of "Trust Us" and the blowsy "Gimme Dat Harp Boy" – an epic put down to Canned Heat's Bob Hite – and this will have conditioned you to the world of the Captain to go for broke on "Trout Mask Replica"
The financially challenged can download the two historic John Peel Sessions from 1968 at http://www.beefheart.com/filtered/peel.htm taped off the radio at the time and now the only copies in existence due to the BBC's bizarre wiping policy of the 60′s – for free. The poor sound quality actually enhances these recordings giving them the supernatural feel of the crackly 1920′s Son House and Blind Blake records so loved by the Captain himself.
After that, the impossible to get "Lick My Decals Off Baby" is well worth trawling through the second hand record shops for, featuring the Buzzcocks/Magazine covered " I Love You, You Big Dummy" and the hilariously titled "I Wanna Find Me A Woman That'll Hold My Big Toe 'Till I Have To Go" which comes on as a surrealy libidinous rant, until the final line
"until I have to go and sow my last sweet potato"
makes it sweetly touching. After that there's the magnificent and underrated "Clear Spot" which features the excellent "Blue Eyed Beans From Venus ".
If ever the Captain's far reaching ideaology was contained in one song this is it – a hip shaking blues which contains the line

"Mr Zoot Horn Rollo , hit that long lunar note , and let it float "
after which the Magic Band veteran guitarist does just that, an undulalting slide guitar note which hangs in the air like the approving spirit of Blind Willie Johnson and decays into the band romping back in – the hairs on the back of your neck will probably never go back down
Also in 1972 he released the more languid The Spotlight Kid " a companion piece in all but name to "Clear Spot" that is available on a double CD pack that will be the best 7.99 you've ever spent
Even his much criticised soft rock experiements on "Unconditionally Guarenteed" and "Bluejeans and Moonbeams" have their charm especially the latter's "Party of Special Things To Do" which was covered by the White Stripes.
Come 1978 and the so called comeback LP's " Shiny Beast -Bat Chain Puller" and 1982′s final "Ice Cream For Crow" show the Captain glorying in his new found mantle as the grandaddy of Post Punk whilst easily equalling the heights of his earlier work
and then he stopped.
His five octave voice silenced by a mixture of boredom at the limitataions of music and a deisre to express himself through the visual arts , producing relatively few paintings for exhibition such were his exacting standards that he was reputed to destroy any of his paintings that he wasn't satisfied with.
The unique vision was clearly still as strong as ever, even if the meduim had changed.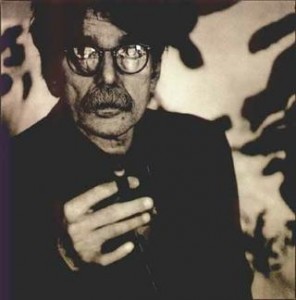 Not many words are as overused as "visionary" particularly within a field so self aggrandising as popular music but Don Van Vliet was a rare example of an artist within a world populated by entertainers . His music and life are an example to anyone who sees beyond the constraints of "normality" and his influence will remain writ large in the margins of art where all the exciting stuff happens.