Now then!
Last week we broadcast a Fantasy Festival special, cos it's quite fitting at this time of year. Some people are off to Latitude tomorrow (including Jenny Jet), and I am very jealous indeed (although you would have to pay me a lot of money to endure Texas).
Anyroad, you can probably guess that our show explored who would be in our fantasy line-ups. Certainly no re-formed bands, we've gone for people in their prime! Thank you to everyone who sent their own suggestions, including Jenny Wilson, Cheryl Killey, Anke Holgersson and Nanette Brimble. Elvis, George Formby, Kirsty MaColl… all good suggestions, and eclectic, which is how we like it.
Here's the small selection we squeezed into the show:
1. ELLA FITZGERALD – Can't Buy Me Love
2. SONIC YOUTH – Sugar Cane
3. VIOLENT FEMMES – Prove My Love
4. AC/DC – Back in Black
5. PUSSY RIOT – Putin Lights the Fires
6. GLEN CAMPBELL – Wichita Lineman
7. PRINCE AND THE REVOLUTION – Life Can Be So Nice
8. SUPER FURRY ANIMALS – The International Language of Screaming
9. DESTINY'S CHILD – Bootylicious
10. COCTEAU TWINS – Bluebell Knoll
11. DEATH FROM ABOVE 1979 – Going Steady
12. KRAFTWERK – Tour De France
13. THE SMITHS – William, It Was Really Nothing
14. THE TEMPTATIONS – Ball of Confusion
And there's a bit of Mike Sammes Singers and Herb Alpert in there somewhere.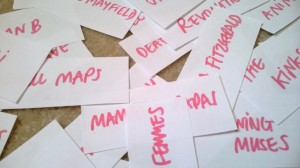 If you listened/listen to the show, you'll know I laboured over my line-up, and even now keep thinking of bands I missed, but here's what I came up with (in order of appearance):
Friday
Swell Maps
Dirty Projectors
Duchess Says
Violent Femmes
The Knife
Husker Du
Pixies
Super Furry Animals
LCD Soundsystem
Sufjan Stevens
Saturday
We Rock Like Girls Don't
Fanny
Fatima Mansions
Death From Above 1979
Pussy Riot
50 Foot Wave
Dead Kennedys
Plan B
Curtis Mayfield
Beastie Boys
Sunday
The B-52s
Ella Fitzgerald
The Kinks
Hern Alpert and the Tijuana Brass
The Temptations
Destiny's Child
Blondie
Beck (featuring The Mike Sammes Singers)
Jimi Hendrix
Prince and the Revolution
Feel free to add you own line-ups, and don't forget your sunscreen!
Maria
x