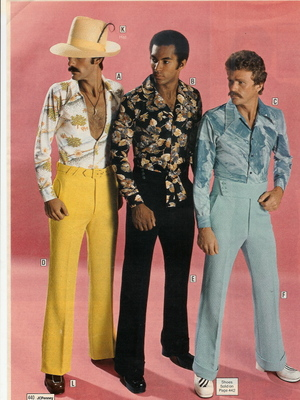 A change to some listings this week, as the dreaded manflu (defintion – like women's flu but MUCH WORSE!) has sundered my previously mellifluous tones and replaced them with something that sounds like someone sandpapering a door frame.
So – back, back, back, we go to a conversation that I had with Albert about a year ago, when we speculated as to what our prgrammes would have sounded like had BCB existed back in the day.
Galvanised into action by this conversation I asked Albert to name a random year for me to build a programme around. Having already dealt with 1987 previously, his second suggestion was 1975.
So this week's programme was a tribute to the days when, if you were very good and ate all your Vesta curry and Angel Delight , your mam would let you stop up and watch "Fawlty Towers" and if you were bad she'd make you listen to the Radio 1 breakfast show with Noel Edmonds.
Starting with the obvious but enduringly wonderful….
Bob Marley and The Wailers – "No Woman No Cry" (LP- "Live") (Tuff Gong/Island)
Jonathan Richman – "Roadrunner" (v/a EP "Beserkley Chartbusters Volume 1") (Beserkley)
Neu – "Isi" (LP – "Neu 75") (Brain)
Thin Lizzy – "Freedom Song" (LP – "Fighting") (Vertigo)
John Lennon – "Just Because" (LP – "Rock n Roll") (Apple)
Parliament – "Chocolate City" (LP – 'Chocolate City") (Casablanca)
Richard and Linda Thompson – "A Heart Needs a Home" (LP – "Hokey Pokey") (Island)
Kraftwerk – "Airwaves" (LP -"Radio-Activity") (Kling Klang)
David Bowie – "Fascination" (LP – "Young Americans") (RCA)
Ivor Cutler – "Even Keel" (LP – "Velvet Donkey") (Virgin)
Burning Spear – "Red, Gold and Green" (LP – 'Marcus Garvey") (Island)
Dr.Feelgood – "Twenty Yards Behind" (LP – "Down By The Jetty") (United Artists)
Captain Beefheart and Frank Zappa -"Man With Woman Head" (LP – 'Bongo Fury") (DiscReet)
King Tubby and The Aggrovators – "Give The Little Man A Great Big Hand Dub" (LP – "Shalom Dub") (Klik)
Neil Young and Crazy Horse – "Don't Cry No Tears" (LP – "Zuma") (Reprise)
Loudon Wainwright III – "Unrequited To The Nth Degree" (LP – "Unrequited") (Columbia)