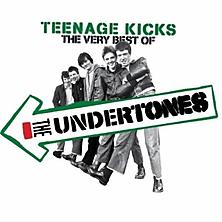 If you can get over the unashamedly prosaic title of this newly released compilation by The Undertones, it's a fine set of tunes. Â This is the third Undertones 'Best Of' compilation to have adopted the title of their debut single, and best known song, 'Teenage Kicks'. Â The difference is…this time it's The Very Best Of. Â I assume that's because not only does it have 20 songs on, but also the videos to 'Teenage Kicks' and 'My Perfect Cousin', both of which feature some fine knitwear.
It could be argued that they missed a trick by not including the excellent 2003 single 'Thrill Me', but sticking to the original incarnation of The Undertones (1979-1983) was an understandable decision when compiling this set. Â As well the obvious singles, this set includes a smattering of great album tracks, including 'Family Entertainment' and 'Hypnotised' from their first and second albums respectively.
The Undertones' song I bring out on the rare occasion I DJ live is Get Over You.  It's an absolutely blinding pop sing, but I've always mis-heard its opening line.  It does start "Dressed like that you must be living in a different world" but I thought it started "Dressed like Thatcher; must be living in a different world".  It's only today, looking online while writing this, that I've learnt the real lyrics. I have to admit, I prefer my mis-heard version, as it adds a politic bite to the song.  But the truth is, The Undertones rarely strayed away from songs about personal relationships.  An early accusation levelled at the band was that all they sang about was chocolate (an early b-side was a paean to 'Mars Bars') and girls.  So, it was a cheeky move to start their second album with a song called 'More Songs About Chocolate And Girls'. The song has stood the test of time well and is rightly included on this new compilation.
If you don't own anything by The Undertones and think they were just a One Song Wonder (I hesitate to use the word 'Hit' in that phrase, because 'Teenage Kicks' only reached number 31 on its original release) Teenage Kicks: The Very Best Of The Undertones is a good place to start. Â I would then suggest getting both their first two albums, The Undertones and Hypnotised.