I was 15 when I attended my first festival – U2 at Milton Keynes Bowl, with support from The Ramones, REM, Spear of Destiny and Billy Bragg (who performed at pretty much every festival in the mid to late 1980s). Bono was less pompous then, I was in love with Larry Mullen Jnr, and I'd never seen 50,000 people in one space before – it was quite a big deal for little teenage me. I also got hideously sun-burned and learned my first festival lesson – sun-block.
I haven't been to that many festivals since, as I decided I actually don't enjoy them that much. I'll get excited by a line-up, pay a huge sum of money for maybe three or four bands, then feel disappointed because I can't see a thing, the sound quality is rubbish, and there are too many drunk people invading my personal space. I've often come away from a festival saying "(insert band) were great, but I'd love to see them properly…"
Then I had my first All Tomorrow's Parties experience. No tents. No portaloos. No sun-block. Amazing bands, decent stages and sound quality – a festival that gives you a proper, intimate gig experience for each band you choose to see. And do you know what else I like? Seats. Standing around all day takes it's toll, and I am officially middle aged, you know.
So I was mighty excited by Leeds' first Constellations festival – many stellar bands under one roof, in Leeds? Aces! And I wasn't disappointed. Of the three rooms the Refectory is my least favourite, as the sound quality isn't brilliant, but Stylus is a fantastic gig venue, even without seats! The absolute highlight for me was Liars; their sound is dirty, weird and loud, and far more impressive live than on their records.
You either go with the flow or plan ahead with events like these, but I sort of did both. I looked up some bands in advance in an attempt to make informed choices, like Superhumanoids, who were quite lovely. But with Local Natives and Les Savy Fav I made a planning error as I only caught the last ten minutes of each. I waited around to watch Los Campesinos! who, despite being one of the most energetic, witty bands around, were marred by poor sound quality, so ducked into Stylus to find it packed out and filled with genuine atmosphere thanks to the amazing Les Savy Fav. I suppose we can all have a very different festival experience at the same festival, and it's inevitable you'll miss something great.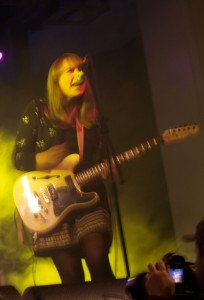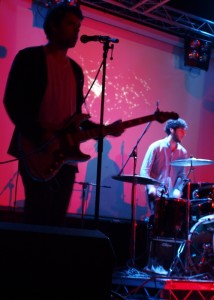 That Constellations was something of a Wichita take-over didn't go unnoticed. Leeds' own Sky Larkin made their first Refectory appearance, and in total 6 bands (I think?) were there representing possibly the best indie label around. Dick Green, fellow Bostonian and truly lovely man, shunned the limelight when he ran Creation records with Alan McGee. He and Mark Bowen established Wichita purely for their love of music – they are fans first and foremost, which is possibly what makes the label so enjoyably eclectic.
I caught bits and pieces of other bands – Breton (hoodies); Polarsets (Flock of Seagulls hairdo, seriously); iLiKETRAiNS (bearded baritone); Fourtet (gadgets)… I didn't see/hear anything awful. And as for the mighty Broken Social Scene – the loveliest of loveliness, sigh…. Only I made another error. Being well-impressed by the new Sleigh Bells record I dipped out of BSS to catch ten minutes of them in the smallest of the three venues, Mine. It was packed with people having a great time but, as one tweeter commented, it was little more than "glorified karaoke". I even suspect Alexis Krauss was singing over pre-recorded vocals. I had flashbacks to Top of the Pops, but not in a good way. I returned to Broken Social Scene, enjoyed their last songs, and went home tired and weary, but happy.
Then I caught up on people's Twitter reviews and discovered that in my 10 minute absence I missed a special guest join Broken Social Scene on stage. The same special guest I missed join the Cribs on stage at the very same venue – Johnny Bloody Marr. Once again, I was sicker than a Jing Jang Jong.
But never-mind, for next month I am going to All Tomorrow's Parties on a Buffet road trip, and Bloody Nora, I will plan and I will rock. And sometimes I will have a little sit down.