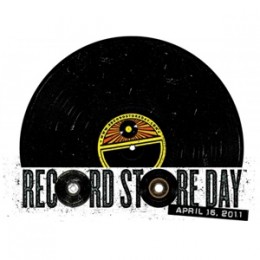 It only seems like 364 days since I previewed Record Store Day 2010.  Little did I realise at the time, as I planned my trip into Leeds, that I would be approximately the 100th person to be queuing outside Crash Records when I got there at approximately 08:20 on the day itself.  And little did I realise that it would be over 2 hours before I actually got into the shop.  Oh the enthusiasm of youth.
This year I'm delaying my trip into Leeds until  the afternoon of Record Store Day, and will simply accept the fact that I won't even be close to beating the donkey-raping shit-eaters* who buy things simply to make a profit from them on eBay.
There are a few things I'm hoping won't have sold out, but I'm not telling you what in case I tempt fate, and I don't end up getting them.  I'm particularly interested by the line-up of artists performing at Jumbo Records on Record Store Day.  I will probably be there at about the time when The Singing Adams are perfoming.  It will be nice to say hello to Steve Adams again, as his former band, The Broken Family Band, are the only band who I have had the pleasure of recording sessions with twice here at BCB.
Owiny Sigoma Band are a band who I played in my show tonight, because 'Wires' is coming out as a 12″ single on Record Store Day.  Here's an introduction to the band:
In other news, you might have recently heard me playing some songs from the excellent new 3CD set The Bullet Records Story.  Our Phil Cope has written an excellent review of the set which I would like to suggest you read.  And it seems a mutual back-slapping is the order of the day, as he has just told me he is enjoying my show more than he has ever done before.
Speaking of me playing songs, here's what  I played tonight:
Bee Mas – "Canzoni dal Laboratorio del Silenzio Cosmico I" (LP – "Canzoni dal Laboratorio del Silenzio Cosmico") (Spectrum Spools / Editions Mego)
Owiny Sigoma Band – "Wires" (LP – "Owiny Sigoma Band") (Brownswood)
The Computers – "Group Identity" (single) (One Little Indian)
Daedelus – "Tailor-made (Tokimonsta remix) (single) (Ninja Tune)
Timber Timbre – "Creep On, Creepin' On" (LP – "Creep On, Creepin' On") (Full Time Hobby)
Colourmusic – "You For Leaving Me" (single) (Memphis Industries)
WOLS – "Shiny Headway Endryhme" (LP – "Unframe") (Pingipung)
The Fairfield Four – "Amazing Grace" (3CD – "The Bullet Records Story") (SPV)
Evil Madness – "Café Eindhoven" (LP – "Super Great Love") (Editions Mego)
Young Knives – "Everything Falls Into Place" (LP – "Ornaments From The Silver Arcade") (Gadzook)
Sarabeth Tucek – "The Wound And The Bow" (LP – "Get Well Soon") (Sonic Cathedral)
Jeniferever – "Deception Pass" (LP – "Silesia") (Monotreme)
Agnes Obel – "Riverside" (single) (Play It Again Sam)
Mazes – "No Way" (LP – "A Thousand Heys") (Fat Cat)
* This phrase comes from South Park, by the way.  I couldn't possibly have come up with such an insult myself, you understand… 😐