Your regular EM host Albert Freeman is off for a few weeks on a mission to save stranded vegan wasps from a concentration camp in deepest Antasia, so myself and the venerable Phil Cope – the Mod Laurel & Hardy – are sitting in for a total of four weeks in return for lurid bodily favours which would make a street girl vomit into an ashtray.
I seem to recall an off-air agreement betwixt your hosts that if I did all the technical hoohah this week, Phillip would do the blogging honours. Ah cannae see the relevant entry*, so I've done the honours on his behalf and will make sure to smash all the teeth out of his head as a punishment for reneging on such a deal. It also gives me carte blanche to shove up these compare & contrast images of the two of us – coincedentally taken entirely independent of each other and without prior knowledge of the existence of either, which Phil hates as he thinks it makes him look like a blind Womble.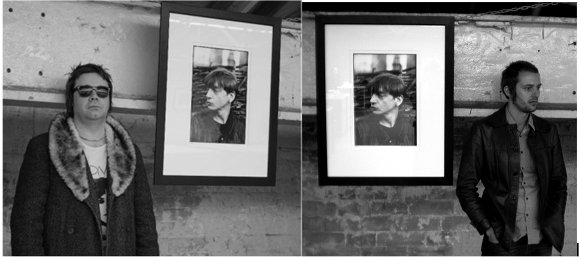 * Although, in fairness, I took home the tracklisting which might have made it difficult for him, but I must just smash his teeth out anyway for my own amusement.
Here's the tunes that we poured onto the airwaves like aural soup into your listening ear bowls:
Eclectic Mainline 15 February 2012 (Listen here)
1. Those Darlins – Screws Get Loose
from: Screws Get Loose
2. Lambchop – Gone Tomorrow
from: Mr. M
3. Hookworms – Medicine Cabinet
from: Hookworms EP
4. La Makina Del Karibe – El Maki Man
from: Kosmik Chankleta
5. Cate Le Bon – Falcon Eyed
from: Cyrk
6. Jack White – Machine Gun Silhouette
from: Love Interruption 7″ single
7. EQ Why – Back 2 Dis
from: Let Me See Your Footwork
8. Alabama Shakes – Hold On
from: Boys & Girls
9. Liz Green – Rybka
from: Bad Medicine CD single
10. Metronomy – Corinne
from: The English Riviera
11. Shearwater – Breaking The Waves
from: Animal Joy
12. The Fall – Cosmos 7
from: Ertsatz GB
13. Ital – Doesn't Matter (If You Love Him)
from: Hive Mind
Patrick Thornton presents Selection Box every Monday at Midnight.
Phil Cope presents When Big Joan Sets Up every Wednesday at Midnight.