Tonight's was a special show dedicated to releases that are coming on on Saturday 21st April, the annual Record Store Day event.  The official UK Record Store Day 2012 website has a full list of releases coming out on the day.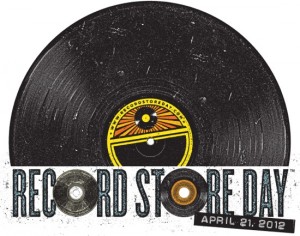 During the show I spoke to Adam of Jumbo Records in Leeds. Â Jumbo have arranged a really special line-up of in-store performances for Record Store Day. Â  If you do make it into Leeds, I would advise you also visit Crash Records who are, of course, also stocking a wide range of special releases for Record Store Day.
I must confess I got something wrong in the show tonight.  I said that the Wickerman 7″ is on BBC Records.  It is, in fact, nothing to do with the BBC, but is released on Silva Screen.
If you missed the show you can hear it on the BCB Listen Again service, here. Â Apologies for the low bit-rate and low volume.
Here is a full list of the Record Store Day releases that I played tonight:
The White Stripes – "Handsprings" (7″ single – red/black swirl) (Thirdman)
Geoff Barrow / Ben Salisbury – "Miami Lawgiver" (LP – "Music Inspired By Mega-City One") (Invada)
Sugar – "If I Can't Change Your Mind" (7″ picture sleeve, coloured vinyl) (Edsel)
James Yorkston & The Athletes – "Sweet Jesus" (2LP – "Moving Up Country") (Domino)
Jherek Bischoff & David Byrne – "Eyes" (7″ single) (Leaf)
The Scientists – "Last Night" (7″ EP) (White Rider)
The BBC Radiophonic Workshop – "Tardis" (LP – "Dr Who Sound Effects") (BBC Audio)
Frank Turner – "Somebody To Love" (7 " single b/w "I still Believe") (Xtra Mile)
Daniel Johnston – "Story Of An Artist" (CD – "Welcome To My World") (Feraltone)
McLusky – "To Hell With Good Intentions" (orange vinyl LP – "McLusky Do Dallas") (Too Pure)
Billy Bragg & Wilco – "Remember The Mountain Bed" (3CD and DVD – "Mermaid Avenue") (Nonesuch)
Serious Sam Barrett – "Alf's Song" (LP – "Serious Sam Barrett") (YaDig)
The Kinks – "Australia" (2LP – "Arthur Or The Decline And Fall Of The British Empire") (UMC)