So, the cowbell highlight for this month is Tony Osborne's highly percussive Latin version of Eleanor Rigby (Emma is pictured holding the album – it's bloody good!).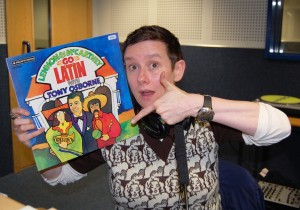 You can listen or listen again here (and the skip the first five minutes – it's sport, BORING!):Â http://www.podcast.canstream.co.uk/bcb/index.php?id=6335
And here's what we played:
Library music from a found CD  – "Mystery, horror…"
YEAH YEAH YEAHS – Date With the Night
MOON DOG – Remember
MAGIC WANDS – Burning Up
BLOOD, SWEAT AND TEARS – Lucretia MacEvil
OFF! – King Kong Brigade
DANIEL ROSSEN – Silent Song
TONY OSBORNE AND HIS ORCHESTRA – Eleanor Rigby
THE SCARAMANGA SIX – The Last Roll of the Dice
TYCHO – Dive
CASIOTONE FOR THE PAINFULLY ALONE – Graceland
LOWER DENS – Brains
PLAN B – Ill Manors
THE HEADSTART – Feels Like Home
SLY & THE FAMILY STONE – It's a Family Affair
THE MONKEES – You Told Me
Join us again on Saturday 19th May!
Big love,
Team Buffet
xxx