After 10 years, and approximately (maybe even exactly) 500 shows, I presented the final Eclectic Mainline live on Wednesday evening this week. Thanks to everyone who tuned in to help make this last episode feel special.  Having so many people getting in touch during the show was wonderful.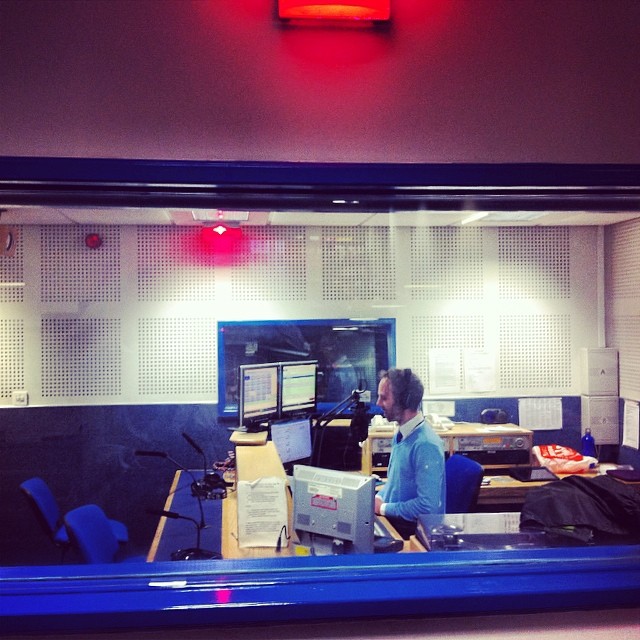 Choosing what I was going to play in this final show was by no means easy. I decided a few weeks ago what I was going to end with. That was easy. But, apart from that, I just wanted to play as much new music as I could, knowing that it was my final chance.  And I had at least 2 shows' worth of music in my pile of CDs as I entered the studio. I'm kicking myself for forgetting something, however. Back in February the Tweet below alerted me to something amazing.  You can actually listen to Wikipedia edits in real time – the actual sound of the internet breathing!
Hypnotic: This allows you to see and hear #Wikipedia edits, new articles and new account creations http://t.co/XTt2OtkoJx via @StevieBenton

— @comms2point0 (@comms2point0) February 25, 2014
I thought that was absolutely stunning, and so very now.  Well done to the people who developed that.  I've wanted to play an extract if it on the radio ever since, and planned to do so in my final show. But… like a muppet, I forgot. Hey ho, there's always next wee… Oh no, there's no next week, is there.
You can listen back to the final Eclectic Mainline at your leisure via Mixcloud:
These are the tunes that I played:
Martha – 1997, Passing In The Hallway (LP – Courting Strong) (Fortuna Pop!)
NameBrandSound – Name Brand Ah Murdah (EP – Nowadays Pressure) (Technicolour)
Teleman – 23 Floors Up (single) (Moshi Moshi)
John Lee Hooker – Wednesday Evening Blues (10xCD – Blues Is The Healer) (Documents)
Quirke – Break A Mirrored Leg (single) (Young Turks)
Marissa Nadler – Nothing In My Heart (LP – July) (Bella Union)
Fuck Buttons – Brainfreeze (Alt. mix) (Various Artists LP – Bleep:10) (Bleep)
The Vacant Lots – Mad Mary Jones (single and LP – Departure) (Sonic Cathedral)
Cut Hands – No Spare No Soul (LP – Black Mamba)
Lyla Foy – Honeymoon (single and LP – Mirrors The Sky) (Sub Pop)
Martijn Comes – Memory Field (LP – Infinite Spaces And Beyond) (IO Sound)
Chain & The Gang – Everything Worth Getting (Is Gone) (LP – Minimum Rock N Roll) (Fortuna Pop!)
Smallgang – Imminent Child (LP – San) (Damnably)
Avey Tare's Slasher Flicks – Strange Colores (LP – Enter The Slasher House) (Domino)
Mazzy Star – In The Kingdom (single and LP – Seasons of Your Day)
Big Star – Take Care (LP – Big Star's Third / Sister Lovers) (PVC)
Main photo credit: Patrick Thornton