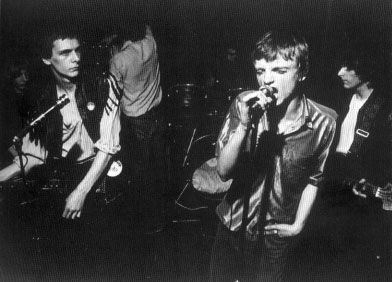 Back in August 2010 a fresh -faced idealistic young DJ had a dream which came to him while he was idly perusing a Fall discography. "What if , " thought our lantern jawed hero, " there was a Fall record that began wil every letter of the alphabet?"
"And what if" he went on, sitting upright on his sofa strewn with discarded Frosties and old copies of DJ International magazine "we played them in order over the next 26 weeks – that indeed would be a fine testament to the work of Mark and the eternally revolving line ups of the Fall".
And so, he went to work long into the unforgiving night compiling such a list because he was a bit sad and didin't have anything better to do .
Some of his choices were perverse. A ramshackle live version of Gene Vincent's "Race With The Devil" over "Rowche Rumble?", " forgotten LP track "Hilary" over "How I wrote Elastic Man ? Nothing from "The Marshall Suite"?, no "To Nkroachment:Yarbles" or Mollusc In Tyrol?".
Some of his choices were hard fought. The battle between "Bill is Dead" and "Bingo Master's Breakout" for the letter B and "Kicker Conspiracy" and "Kimble" for the letter K being the kind of epic set-to more likley to be seen in the final reel of Marvel comics superhero movies.
and the ignominious cheating of including "THE Quartet of Doc Shanley" as the letter "Q"
But 26 weeks later (and a bit as there were a couple of weeks when I forgot) here is it, replete with some of the great Fall moments, such as Mark stopping the band during the Peel session version of "C n Cs Hassle Schmuck" to announce the fictional assasination of Arthur Askey and during a particularly dirgey live rendering of "No Xmas For John Quays" Mark rounding on the band and shouting "Will yer fuckin' gerrit together and stop showing off!"
and so with apologioes to Brian Matthew, in all it's controversial, flawed beauty. Laydeeeez and Gennlemun I give you – The A-Z of the Fall Continue reading →