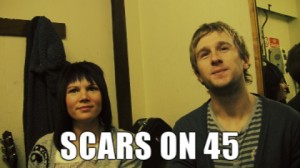 A couple of months ago I had a chat with half-Bradford, half-Leeds bred indie rockers Scars On 45 before they went off to Texas to play SXSW with their new Chop Shop Records label-mates Fanfarlo and Marina and the Diamonds. Vocalists Danny Bemrose and Aimee Driver had a lot to say about their upcoming album, living the dream and… where to get a good curry in Bradford.
"People always get it wrong… they go to places like Aagrah and Akbar's and nice places, but you've got to go to some proper dives to get a good curry. There's Sweet Centre… there's Karachi. Karachi was in The Guardian, it's been going since 1965! And it's either chicken and spinach, or chicken and potato… but it's got to be masala."
And his bandmate? "Spicy Cottage! Chicken tikka every time!"
Check out thejustaminuteproject.com for the video interview and myspace.com/scarson45 for some tunes.