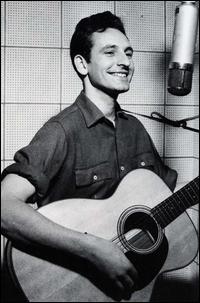 I have a theory which, like most of my theories, probably doesn't stand up to close inspection, that those of us born in the early seventies were the first generation whose parents had cool record collections. My early years, like many of my contemporaries, were soundtracked by Elvis, Jerry Lee, Eddie, Gene, Fats, Chuck and countless twangy guitar expositions from the likes of Link Wray and Duane Eddy.
Because of this, I retain a dedicated affection for the music of the late fifties to this day, but there was always one name that baffled me.
My dad and his mates would speak in hushed and reverent tones about the first time they heard Lonnie Donegan. Added to this, when I later began to nurture a youthful obsession with the music of the 1960's, I read that my fave raves (Beatles, Stones, Animals and so on) were all inspired to take their first tentative steps into the world of music by this diminutive Glasgow Irish Cockney with the curiously whiny voice.
I mean, I liked "Rock Island Line" but what kind of hunched,self loathing carapace of humanity doesn't like that? Continue reading →