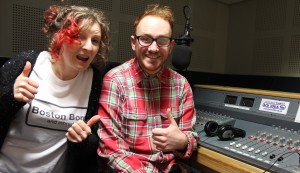 If you tuned into Buffet on Sunday 25th January, we thank you. Or if you're wondering how to listen to it, it's over on our Mixcloud.
A massive thank you to the lovely, super-talented Jimmy May for joining us! We got the low down on 50 Sniffs and Cool Beans, as well as indulging in flat vowels and fen-punk from flat, fat, far-out Boston.
This is what we played:
1. Plan B – Ill Manors
2. 50 Sniffs – That's Why I Only Call You When I'm High (feat. Arctic Monkeys)
3. Vehicle Derek – Sometimes She Will
4. Dan Le Sa vs Scroobius Pip – Thou Shalt Always Kill
5. Screaming Females – Ripe
6. Sleaford Mods – Shit Streets Runny
7. 50 Foot Wave – Bath White
8. Astronauts – In My Direction
9. Nots – Reactor
10. Belle and Sebastian – The Party Line
11. Bad Manners – Lip Up Fatty
Buffet is back on the radio on February 22nd. In the meantime, we're on Facebook and Twitter. We're probably on MySpace, too, but abandoned that years ago.
Ta-tar!
x