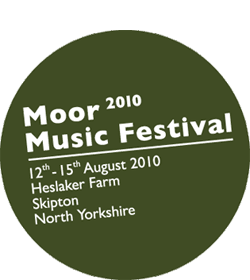 The Moor Music Festival is a grass roots festival and has no corporate tie ins with the majority of work being carried out by volunteers. There are a wide variety of positions available and the opportunity for volunteers to gain valuable experience. Based in the North Yorkshire Dales the organisers are keen to initially offer these positions to local organisations and people interested. There are currently positions for Team Leader and Head Steward available for those with experience.
The deadline for signing up as a volunteer is 12th July 2010.
All volunteers are required to send a cheque for a refundable £85 deposit (the price of one weekend ticket) with their application to secure their place.
Download Volunteering at the Moor Music Festival 2010 for full details of the various ways you can be involved as a volunteer.
Once you know how you want to take part, download and complete the Volunteer Application Form and return it to us with your deposit via post.
More general info about the festival can be found here.