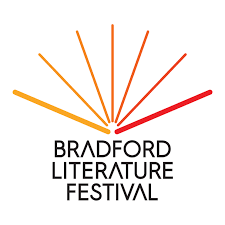 Bradford Literature Festival (BLF) is an annual festival and year-round cultural outreach programme encompassing the best of literature, music, theatre, cultural discussions, lectures and family events. This year the festival takes place 23rd June-2nd July 2023 and BCB will be broadcasting live from the hub 5:30-6pm every day. Join us as we bring you all the action and the highlights! You can also listen to all the interviews and programmes below
Programmes
Live from the Literature Festival 1
On the show BCB's Maureen Grant and Mary Dowson chat to Saeed Khan – a friend of the Bradford Literature Festival – who tells them about the Bite Size Lunchtime event discussing 50 years of Pink Floyd's Dark Side of the Moon. They also chat with Festival Director Syima Aslam as the festival gets into the full swing. Finally BCB's John Hebden chats with Lord Mayor of London Sadiq Khan about his new book Breathe and his passion for environmental action
Live from the Literature Festival 2
Carole Moss and Maureen Rowe you all the latest Literature Festival news, reviews and interviews straight from the festival hub. On today's programme we'll be hearing from Bradford Council Chief Executive, Kersten England about Thursday's event in memory of her mother Joan Lingard; and with the big Bollywood concert on Monday night at St Georges Hall we'll be finding out just what one fan thought.
Live from the Literature Festival 3
On today's programme we'll be hearing from Manni Coe who'll be at the festival on Thursday evening with his brother Reuben, talking about their book. Carole Moss, Cath Webber and June Russell also chat to Colin Philpott and Sarah Tarlow about their talk called 'A Good Death' at the Dye house in Bradford college
Live from the Literature Festival 4
On today's programme Maureen Grant and Maureen Rowe talk to poet and broadcaster Kate Fox who's back in her native Bradford to talk part in the festival. They also speak to Si Cunningham, Chair of Bradford Civic Society, who's just been leading a tour of the Blue plaques in Bradford. Finally Carole Moss caught up with Stefan Mohamed – author, writer, poet and performer – about his two performances at this year's festival.
Live from the Literature Festival 5
On today's programme Carole Moss and June Russell chat with Nick Toczek. As well as working with children as part of the Literature Festival's school programme, he's at the festival talking about Tvins – German Jewish Bradford.
Live from the Literature Festival 6
On tonight's show Maureen Grant and Cath Webber chat to Munira Mendonca about her leather craft workshop. They also speak with Ravan Savfi who told them about the three events she's involved with at Bradford Literature Festival 2023
Interviews
Alison Weir
Alison Weir introduces us to her book 'Henry VIII The Heart and The Crown" at the Bradford Literature Festival this year. She spoke by phone to BCB Reporter Carole Moss
Sudha Bhuchar
Sudha Bhuchar speaks about her one woman performance "Evening Conversations" as part of the Bradford Literature Festival.
Kersten England
Council Chief Executive Kersten England chatting to BCB's Carole Moss about Bradford Literature Festival 2023 and the event in tribute to her mother Joan Lingard
Sadiq Khan
Lord Mayor of London Sadiq Khan chats to BCB's John Hebden about his first book Breathe. The book actively addresses our need to tackle the climate emergency. He began by telling John about how his passion for environmental action started.
Journey Through Bollywood
Sunday at St.George's Hall was a real feast for Bollywood lovers. It was the 'Journey Through Bollywood' concert with Navin Kundra and the 515 Crew. BCB's Mary Dowson was there – with hundreds of others – and at the interval, she caught up with one very enthusiastic fan
Manni Coe
Manni Coe, with his brother, Reuben, is coming to Bradford Literature Festival on Thursday to talk about their new book 'Brother, do you love me?' This was written during a particularly difficult time when Covid kept families apart. BCB's Carole Moss talked to Manni and started by asking him to explain the title of the book.