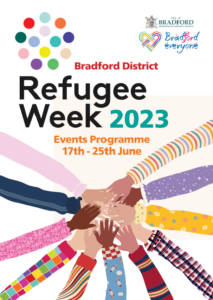 Refugee Week is the world's largest arts & culture festival celebrating the contributions, creativity and resilience of refugees and people seeking sanctuary. As always, Bradford has pulled out all the stops to mark the week and you can find out how here. We'll also be bringing you some of the stories of Bradford refugees throughout the week.
Philips Leave to Remain
William speaking to Phillips just after he had received the great news that he had been granted 'Leave to Remain' in the UK.
Hope In Despair 1
Samira, Kathlyn, Khalid. Ijeora discuss their lived experiences of the asylum seeking process.
Legacy Of Louisa Pesel
Conversation led by Cath Webber with Claire Wellesley Smith (local community textile artist) Caroline Perry and Tracey Williams who worked as researchers on her project Together with Needle and Thread.A programme that brings to our audience the story of the life, work and legacy of Bradford born Louisa Pesel 1870-1949.Her work with Belgian refugees and shell shocked soldiers in this city during WW1 was recognised as ground breaking and her understanding of the impact of creative crafting on well being was ahead of its time. A story of the past which we are keen to share and which has real resonance today.
Insight to Asylum
One woman who is in the asylum process herself, gives us her personal insight into just how it feels.
Hope In Despair 2
William and Latif discuss their lived experiences of the asylum seeking process.
Schools of Sanctuary Awards 2023
Bradford is very proudly a City of Sanctuary. And in recent years, schools – and now colleges – have been awarded School of Sanctuary status. There was an awards ceremony held in City Hall this week, attended by 4 of the Schools of Sanctuary. BCB's reporter, Samira Dehghanazad, was there for BCB and afterwards spoke to some of the people at the event.
Safe Passages Demonstration
On Monday 19th June, at the start of Refugee Week, the Bradford and Shipley Trades Council and Stand Up to Racism, organised a gathering to commemorate the lives of the hundreds of people who died this week in the Mediterranean sea as they tried to make their way to safety in Europe.
Mary Dowson was there for BCB and in this report you'll hear from two of the speakers followed by the thoughts of some of the Bradford citizens who had come together in solidarity with migrants and refugees.
Walk of Welcome 1
William reporting from the 'Walk of Welcome' as part of the Refugee Week events.
Walk of Welcome 2
The 'Walk for Welcome' is a feature of Refugee Week, organised by the refugee support organisation BEACON. It provides an opportunity for people to walk and talk together – and get to know each other. William went along for BCB, and when they stopped off at St Clements Church, he took the opportunity to speak to Ibrahim Maynard.
Refugee Action Party
We have a great team of reporters covering the Refugee Week events for BCB this year and today we hear from Latif, who was talking to people at the Refugee Action party earlier this week.