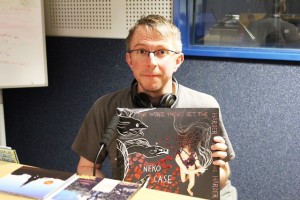 Earlier this week our Boris (AKA Lyndon Marquis) was seriously injured in a horrible accident. We are enormously grateful to Keswick Mountain Rescue for finding and saving him.
We've uploaded Boris' radio debut  but the real point of this post is to ask everyone to support a fundraising effort by way of a thank you. If you can sponsor Ewan Mitchell he's running the Abbey Dash in Leeds this weekend. Please donate as little or as much as you can.
You can also join us for a Christmas Record Club at the Kirkgate Centre in Shipley on 6th December. It's just £3 on the door and all proceeds from the evening will also be donated to Keswick Mountain Rescue. They are an entirely voluntary team of 45 who do brilliant work (they saved our friends' life and we will love them forever).
Please support these fundraising efforts and send virtual hugs to Boris!
Thanks for reading, Team Buffet
xxx