Tis the season to get your dancing shoes on! So get cracking, cos Team Buffet (minus Boris, who will be laid up in hospital for a while after his accident) are putting on two live spreads…
Fabulous Funky Disco
Saturday 29th November 7:30pm-11pm
Join us for an evening of disco dancing. Don't snigger, this will be ace fun! We're DJ-ing at Left Bank Leeds.
It's a not for profit event, and, as purveyors of a nice spread, we're bound to play something you'll want to dance to.
Full details and ticket info here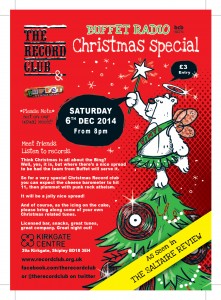 Christmas Record Club
Saturday 6th December 8pm-11pm
Then on 6th December we're hosting The Record Club at the Kirkgate Centre in Shipley. The theme is, of course, Christmas and we'll be playing three full LPs by Andrew Jackson Jihad, Phil Spector and Sufjan Stevens. There'll also be a little time to play your own Christmas records in between, plus there's a Pop Quiz (and who doesn't love a music quiz, eh?). To get you in the mood you can check out the playlist we've put together – you'll notice it's not typical of the Xmas music that gets pumped into our earholes every time we go shopping. And check out full details of the event on the Record Club website.
One more thing… Boris is reported to be doing well after his accident, and there's still time to make a small donation to Keswick Mountain Rescue who saved him. This fundraising effort by Ewan Mitchell has exceeded £1000, which is just awesome. Massive snogs to everyone who's donated!
We hope to see you at the disco and/or Record Club!
Love Team Buffet x