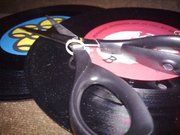 BCB has a whole new show! From the the minds of Katie and Jen, former presenters of The Show, comes DIY or Die – a monthly look into the world of DIY music and culture in Bradford and beyond.
We have our own extra-special blog at network23.org/diyordie because we have so much stuff we want to tell people about – there's also a zine in production that will be available for you look at online and in hard copy.
On our first ever show, we spoke to Jeffrey Lewis about the wonder of Crass, discussed the upcoming EqualFest happening at the 1 in 12 Club and found out about food foraging…
These are the musical selections we made –
MEN – Who Am I? (new single, featuring Anthony from Anthony and the Johnsons)
Jeffrey Lewis – 'End Result'
Crass – 'End Result'
Joe Tilston – 'A Song For Old Friends'
Random Hand – 'I, Human' (from 2009 album Inhale/Exhale)
Autonomads – 'Dubbin' Up The Downfall'

Etai Keshaki – 'Propaganda of the Deed' (new exclusive track!)
Trash Kit – 'Cadets'
Family Elan – misc live track.

Amanda Palmer – 'Map of Tazmania'
DIY or Die goes out once a month on Saturdays at 5pm, and is repeated the following Monday at 10am and Tuesday at midnight. Thanks to the magic of the BCB website, you can also listen again. So no excuses.