Welcome to the BCB newsletter for April Here's just a few things that have been going on at BCB and some events that are coming up:
Radio Venus International
Women's Day 2023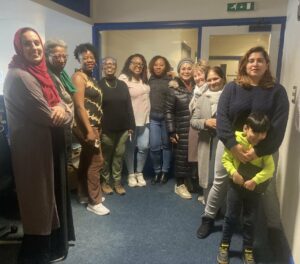 A great big thanks to all the women who took part in BCB's Radio Venus broadcast on Mar 8th to celebrate International Women's Day. Following on from a great series of weekend workshops beforehand, we produced a fabulous day of women's radio broadcasting. 25 diverse women were involved as presenters, and 56 women in total participating in the broadcast as contributors, guests, interviewees, producers, etc.  What a great time we had together! Such a lovely atmosphere. Let's keep that vibe going and make sure that we get more women involved in BCB throughout the year.
BCB – Our new home at Kala
Sangam.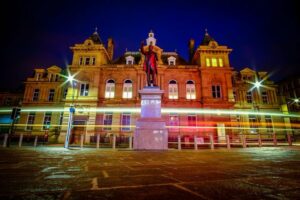 We were delighted to be able to share the fantastic news that in 2024 we will be moving to the Kala Sangam building.  For those who aren't familiar with Kala Sangam, this is the building also known as St Peters House or The Old Post Office, just at the back of the Broadway. Our move will be after the Oastler market closes and our current home at Rawson Road is due to be demolished. With over £7 million grant funding, the Kala Sangam building will be completely redeveloped, with a proper new entrance on the ground floor, where BCB will be housed. So – we need to know what you want to see in our new space. What makes BCB special to you? What would you like to make sure we take with us? What do you want to be able to do at BCB over the next 20 years……? Thanks to everyone who came along to the first 'get together' last Saturday – such a positive meeting and really affirming about who we are. It feels so good to be able to plan our future together., knowing exactly where we will be. We'll be having another session very soon so get thinking. 'People, Community, Connection' were the main themes emerging from the meeting.
The Pre-Election period on
BCB
The pre-election period has started ahead of the local elections on Thursday 4 May.
Please take time to read the following guidelines and the implications for you as a presenter on-air and also on social media as well.
if you have any questions or would like clarification on any of the issues raised, please call Jonathan Pinfield on 01274 771 677 or 07914 222007.
PS If you'd like to be involved in our local elections coverage on BCB between now and 4 May and/or our local elections results programme on Friday 5 May, also get in touch with Jonathan
​BCB Election Guidelines 2023
The Election Period and when BCB's Guidelines come into effect: At 00:01 on Monday 27 March, 2023 for the local elections.
The Election Period continues until the close of polls at 22:00 on Thursday 4 May, 2023
We will be actively covering the local elections with programmes, interviews and guests throughout the election period. To ensure we achieve impartiality and balance throughout the elections period, the coverage will be co-ordinated and monitored by the staff team on a daily and weekly basis.
The major political parties are: The Conservative Party; The Labour Party and The Liberal Democrats
Based on previous election results in Bradford, we will also be including The Green Party.
During the Election Period
In accordance with The Ofcom Broadcasting Code, BCB's broadcast coverage must be impartial and balanced throughout the Election Period (this must be across each programme strand and across each week).
News Bulletins
Bulletins must be planned in advance on a weekly basis between news readers and the Broadcast Manager to ensure balance and compliance on news bulletins throughout the election period.
Programmes
The elections, party political issues & guests will be co-ordinated by the staff team to achieve balance across each week during the elections period on our programmes including (but not exclusively) on About Bradford, Bradford & Beyond and Round Table.
Presenters
Presenters actively involved with a political party as a candidate or agent cannot appear on BCB 106.6fm as a presenter, contributor or guest during the election period
Presenters MUST NOT declare their support for any political party, candidate or election issue either on-air OR through social media e.g. personal Facebook, Twitter, Instagram, TikTok accounts OR share posts OR Re-Tweet from any political party, candidate or election issue.
Booking Guests
MP's, councillors and people involved, supporting or campaigning on behalf political parties (even if they would like to appear in a personal capacity) will be booked to appear on BCB by a member of staff.
As a presenter, if you are booking a guest to appear on your programme, you must make potential guests aware that we are now in the "election period"; you also have a responsibility to ask them if and how they are involved in the 2023 local elections. If the potential guests are involved in the elections, please confirm with the Broadcast Manager (Jonathan) whether they will be able to take part in your programme before you invite them to appear on your show.
Guests who are not themselves candidates or activists, who are invited into programmes to talk on other issues, must not be allowed to make statements which endorse specific candidates or political parties. If they do, presenters should distance themselves and the station from the comments –
e.g. "those are your views, not BCB's". If guests persist in urging a vote for a particular candidate or party we must terminate the interview ("We'll have to leave that there; those are not the views of BCB, we can all have a say by voting in the election which takes place on Thursday 4th May").
On Polling Day
No opinion poll on any issue relating to the election may be published until polling has closed
There will be no coverage of any of the issues directly pertinent to the election campaigns on BCB or on social media until after the polls close in the UK
It is a criminal offence to broadcast anything about the way in which people have voted in the election while the polls are open in the UK
For clarification on the BCB Election Guidelines or any questions, please contact Jonathan Pinfield, Broadcast Manager – BCB 106.6fm on 01274 771677
St Patricks Day on BCB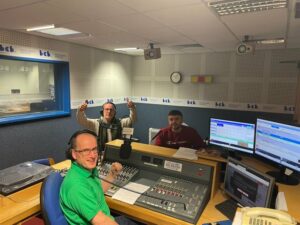 It was great to celebrate St Patrick's Day on BCB  17th March. Thanks so much to the team of Aiden, Connor and Connor for their live programme 10 – 11am. Building on the exemplary work that Joe Sheeran has established on BCB over the last 20 years, celebrating Bradford's Irish heritage and culture,  we hope that will be the first in a new series of regular programmes that highlights the Irish in Bradford. And thanks also to St Georges Hall for enabling us to record and broadcast the Irish Cultural  concert from the 16th March- that's still available on our Listen Again, service if you missed it.
Refugee Radio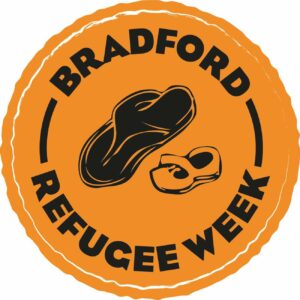 We are planning a new training group for people from the asylum seeking and refugee communities. This will start in late April and lead up to Refugee Week in June, where we want to increase the voices of these communities on BCB. If anyone is interested in taking part in this group, get in contact with Mary mary.dowson@bcbradio.co.uk
Windrush 75 years on BCB
This June marks 75 years since the arrival of the HMT Empire Windrush at Tilbury, bringing people from the Caribbean that have come to be known as the Windrush generation. A series of events are being organised in Bradford by the Caribbean community – and we want to reflect this with special programming on BCB. We'd really like to produce new programmes celebrating our Caribbean heritage in Bradford. Please think about what you could do to contribute to this – contact  Jonathan.pinfield@bcbradio.co.uk if you have any ideas for what we can do on BCB.
Featured Programme Of The
Month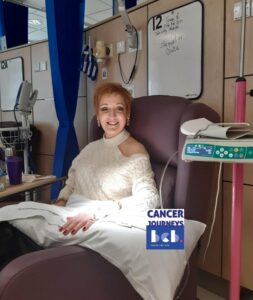 Every month, we tell you more about a show on BCB. This month we're telling you about Cancer Journeys with Jacqui Drake – which has recently reached 100 shows!
The show goes out every Thursday 6-6:30pm. Cancer Journeys is a show to help spread awareness, provide hope to other cancer patients & to give them the opportunity to tell their own inspirational stories.
Rainbow Radio

We have been continuing to work with Rainbow Academy School in Bradford, and this month the children have been very active in the studios producing programs and weekly reports for BCB! They even recorded their very own version of the Fresh Prince of Bel Air Theme tune, which you can hear on their show this Thursday at 6.30pm!
BCB's Jo Kenyon also went along to the school to deliver some sessions, and attended a special celebration assembly this week, where she presented end of term certificates to the children!
Bismah, aged 10 said 'I have really enjoyed coming to the radio studios and Jo is a fun teacher. I feel happy when I get to sit in the presenters chair and drive the desk. We all want to come back and do more shows!'
Dixon's Academy STEM event!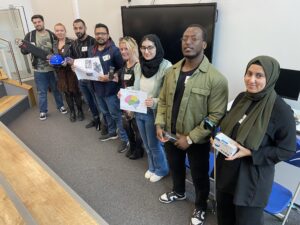 BCB took part in a special STEM day at Dixons Manningham Primary School earlier this month. Jo Kenyon sat on a panel where the year 5 children asked questions to try and guess what they do. The Children made some interesting guesses including Actress  singer and ……. Zoo Keeper! 'Mind you', Jo says, 'sometimes working with Jonathan I feel like I'm on lion taming duty! Just kidding!'
The children were all excited to find out about BCB and we look forward to doing more events like this in the future.
Sound and Vision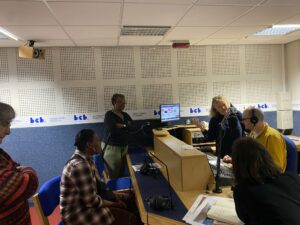 Over the past month we've been continuing our work with the National Science and Media Museum around our place in their new "Sound and Vision" galleries. Michael and Sarah from the museum came down to BCB to think about how we best represent the magic of being a BCBer – as you can see we quickly got them in a studio to experience that buzz of being in control of the desk and hearing yourself talk. The next meeting is on Wednesday 26th April from 12pm. If you'd like to join please email mary.dowson@bcbradio.co.uk
Behind the Scenes at the
Museum on BCB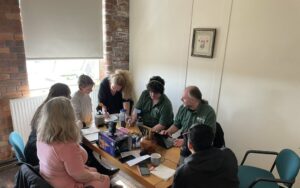 We've been working with members of staff from Bradford's museums and galleries who'll be producing and presetning a series of monthly programmes called "Behind The Scenes At The Museums" throughout the year on BCB 106.6fm, starting this month.
Each programme will be broadcast from one of the museums, Bradford Indusrial Museum, Cartwright Hall, Bolling Hall or Cliffe Castle. The first programme will be broadcast from Bradford Industrial Museum with an iintroduction to the 4 museums across the district.
Other School News in Brief
We were joined this month by pupils from Hazelbeck secondary special school for students with severe learning difficulties, profound and multiple learning difficulties and autism. They all enjoyed trying their hands at Radio presenting. We were also joined by pupils from Newby Primary School who worked with Jo Kenyon to make their own shows. We look forward to working with Newby over the next school year. St James Academy will also be back on BCB doing weekly news reports for us after Easter