Historians will tell you that the late seventies was the era of punk wherein the cultural hegemony of soft rock nonsense was rent asunder and the charts became a writhing mass of snarling, spitting two minute bursts of glorious noise and Rick Wakeman and his caped ilk were well and truly fucked off for good.
The actual charts of 1977 were curiously catholic affair, dominated by a mix of country ('Lucille"), disco ("I Feel Love") , musical theatre ("Don't Cry For Me Argentina"), fit blokes off the telly (David Soul's actually rather ace "Silver Lady) and topped off by the always cheering sound of an ageing multi- millionaire making himself ever richer by singing about a chunk of Scotland that he owned.
Into this confused melange came a record which had been picked up by inexplicably popular Radio 2 breakfast show host Terry Wogan of a provincial brass band playing an instrumental version of a 1911 song about a Cornish Folk tradition called "The Floral Dance"
At 6 years old I'd never heard music like this, huge and soaringly beautiful replete with harrumphing tubas and sonorous trumpets and cornets , it made all the other music which blared out of daytime radio sound well, a bit shit.
This was the start of an abiding affection for brass band music and the B and R in particular which led me to The Lowry last Tuesday for – to my intense shame , my first live encounter with them, thanks to leading folk band The Unthanks with whom they are currently touring.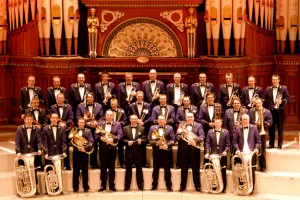 Accompanied by fellow brass nut Laura Rawlings and trying not to feel out of place at a gig where you are greeted on entry by a deeply pleasant lady who tells you to "Enjoy the show" instead of a joyless skinhead in a high visibility vest muttering into a headset, we settle into the rapidly darkening Lowry.
At this point the B and R file onto the stage , resplendent in their appealingly purple jackets , each carrying with them a gleaming instrument that sparkles under the lights. -also standing proudly but unobtrusively at the side of the stage, is their Yorkshire Regional Champions trophy – as if there aren't enough bloody trophies already in Manchester.
The Unthanks file on after and in the kind of noncommercial gesture that befits a band whose love of the music far outshines the usual tour business of plugging the LP, start an achingly beautiful version of "The King Of Rome" – a song which they have yet to record themselves but will be familiar to anyone who has heard June Tabor's wonderful version on the "Aqaba" LP. This song, an apparently true story of a man from Derby who loses a prized racing  pigeon in a storm, only to have it return to him after he has abandoned hope of ever seeing it again, is underpinned by the gently thrumming accompaniment of the band and by it's conclusion I am struggling not to burst into tears. And we're only three minutes in!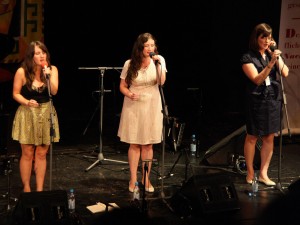 The remainder of the performance , split in to two halves with an interval in the middle (there's posh!) takes in tracks from The Unthanks' fine current LP "Last" along with ones from 2009's "Here's The Tender Coming" and a spellbinding version of my favourite of their tracks "Blue Bleezing Blind Drunk" from their previous incarnation as Rachel Unthank and The Winterset.
Along with this they do a version of Ewan Mccoll's "Nobody Knew She Was There" which leads me to the brink of blubbing once again and a lovely "My Lagan Love", sung as a solo by Niopha Keegan, (on the right in the picture )Â and all the while the B and R send out life affirming plumes of warm brass which compliment the songs perfectly.
Typical of the unselfishness of The Unthanks (who more than once declare their personal joy at working with The Brighouse and Rastrick) the B and R also get a couple of solo turns one of which is called possibly "Northern Fantasy" and encompasses "Bobby Shaftoe" " The Blaydon Races" and, bookending the piece "On Ilkley Moor Bh'a Tat". Despite not being given to spontaneous displays of regionalism,during the latter I have to restrain myself from standing to attention and loudly proclaiming my Yorkshireness to a startled crowd.
Not only a night of wonderful music then , but also thanks to the sheer warmth and good naturedness of the performers a genuinely moving experience which if you happen to read this before Thursday I urge you to participate in when the tour reaches Leeds Town Hall.
I am at this very moment scouring my finances to find a way of purchasing a Tuba so that I can stand under the windows of  prominent record label executives parping tunelessly in the small hours until they agree to pay both The Unthanks and the B and R fantastical sums to make an LP together.
As we set off home, Laura with characteristic insight, summed the night up perfectly 'It was like spending two hours in the world , the way it should be"