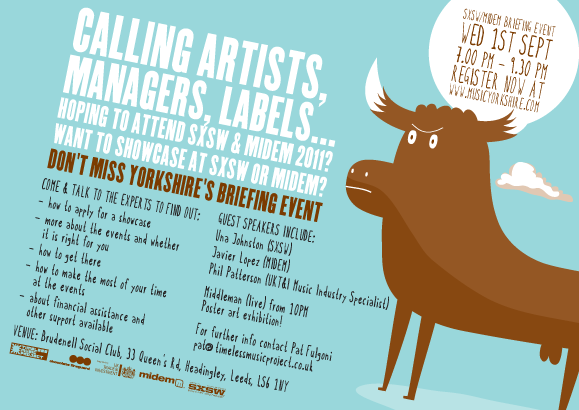 Wednesday 1st September 2010. 7.00 pm. Brudenell Social Club,
33 Queen's Rd, Headingley, Leeds, LS6 1NY.
REGISTRATION FREE!  Go to www.musicyorkshire.com for more details.
GUEST SPEAKERS include Una Johnston (SXSW), Javier Lopez (MIDEM), Phil Patterson (UKT&I Music Industry Specialist)
   
+ MIDDLEMAN + Serious Sam Barrett (live) from 10 pm + Poster Art
Exhibition!
Want to showcase at SXSW and / or MIDEM 2011?
Hoping to attend SXSW or MIDEM 2011?
Following on from our activities at SXSW Music and Media Conference, Austin, Texas, we are delighted to announce we have booked SXSW and MIDEM to come to talk to you! Don't miss Yorkshire's SXSW briefing event. Come and talk to the experts to find out: – how to apply for a showcase – more about the events and whether it is right for you – how to get there – how to make the most of your time at the events – find out about financial assistance and other support available.
What is SXSW?
SXSW is held annually in Austin Texas. It is regarded by many as the most important US based Music Conference relevant to British Music – helping to break many UK acts including Amy Winehouse, Corinne Bailey Rae and Kaiser Chiefs. Check out sxsw.com
What is MIDEM?
MIDEM in France is regarded by many as the most important Europe based showcasing, deal striking and networking event in the international music industry. Check out midem.com
Yorkshire at SXSW
The background to the Briefing event in Leeds is a sharp increase in interest in Yorkshire music at SXSW and MIDEM.
For SXSW 2009 and 2010, social enterprise Timeless Music Project and partners ensured that Yorkshire even had it's own showcase CD and dedicated concert at the British Music Embassy venue showcasing homegrown acts Wild Beasts, Sky Larkin, Talk To Angels, Rolo Tomassi, Paul Marshall, Grammatics, The Crookes, Middleman, Slow Club and One Night Only to packed music industry industry crowds.
Many more Yorkshire bands played SXSW at other showcases. TMP also worked closely with the UKT&I Yorkshire's Trades Mission to help take companies out to the event.
More details: http://www.musicyorkshire.com/
Footage from SXSW 2009:
http://www.flickr.com/photos/chocolatefireguard/sets/72157615776407446/
Footage from SXSW 2010:
http://www.flickr.com/photos/chocolatefireguard/sets/72157623547633481/
Last year's Briefing:
http://www.flickr.com/photos/chocolatefireguard/sets/72157622279730955/