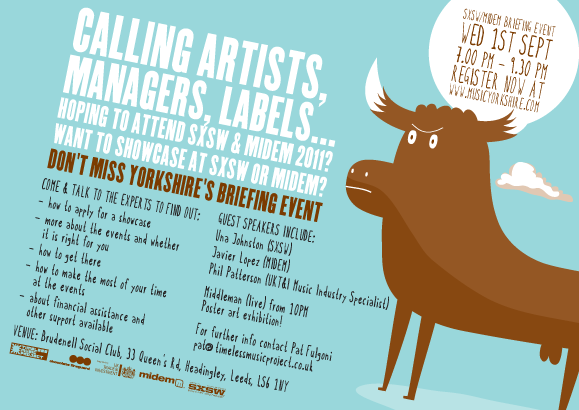 Wednesday 1st September 2010. 7.00 pm. Brudenell Social Club,
33 Queen's Rd, Headingley, Leeds, LS6 1NY.
REGISTRATION FREE!  Go to www.musicyorkshire.com for more details.
GUEST SPEAKERS include Una Johnston (SXSW), Javier Lopez (MIDEM), Phil Patterson (UKT&I Music Industry Specialist)
   
+ MIDDLEMAN + Serious Sam Barrett (live) from 10 pm + Poster Art
Exhibition!
Want to showcase at SXSW and / or MIDEM 2011?
Hoping to attend SXSW or MIDEM 2011?
Following on from our activities at SXSW Music and Media Conference, Austin, Texas, we are delighted to announce we have booked SXSW and MIDEM to come to talk to you! Don't miss Yorkshire's SXSW briefing event. Come and talk to the experts to find out: – how to apply for a showcase – more about the events and whether it is right for you – how to get there – how to make the most of your time at the events – find out about financial assistance and other support available.