Happy Cliffmas from Buffet!
(Episode #30)
At Buffet we like to put on a nice spread, and it's no different at Christmas. Let's face it – you will not hear a demented Christmas selection like this anywhere else! Listen again here!
Hark the Herald Angels Sing – THE HIT CREW
Santa Claus – THROWING MUSES
The Twelve Days of Christmas – FIELD MUSIC + THE FUTUREHEADS + KATHRYN WILLIAMS + THE JOSEPH AND MARY CHAIN et al
Christmas Island – THE ANDREWS SISTERS
Get Behind Me, Santa! – SUFJAN STEVENS
Winter Wonder Land – ANIMAL COLLECTIVE
Christmas Song – JOY ZIPPER
The Kris Kringle Caper – SIX MILLION DOLLAR MAN
Xmas With Simon – THE FALL
 Have Yourself a Merry Little Christmas – Andy Williams
 Silent Night – THE DICKIES
Christmas at The Zoo – THE FLAMING LIPS
All I Got Were Clothes for Christmas – THE HAPPY FLOWERS
It's Christmas! Let's Be Glad! – SUFJAN STEVENS
Christmas Eve – GORKY'S  ZYGOTIC MYNCI
Sleigh Ride – HERB ALPERT & THE TIJUANA BRASS
Happy Cliffmas!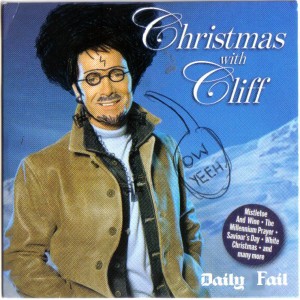 Love from Team Buffet
xxx