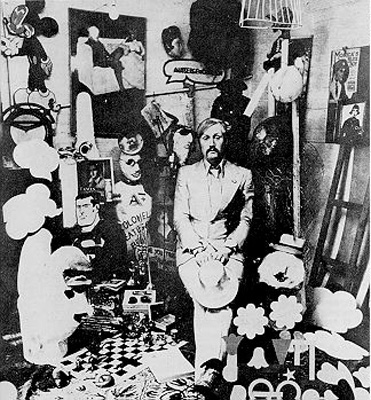 Every year since When Big Joan Sets Up came screeching into a hostile world back in 2006, for one week a year we have put aside our commitment to new music (why I'm referring to myself as "we" as if the progamme is put together by an assemblage of like minded enthusiasts, when in actuality, it is created by me hunched quasimodally over a virus ridden computer in a foul smelling back bedroom festooned with Everest like piles of 7″ singles, yellowing back issues of the NME and curiously, a ukelele which I don't remeber having bought , I don't know) to bring you an installment of the "Rawlinson End" saga as recorded periodically for John Peel's peerless Radio 1 programmes between 1977 and 1990 by the late great Vivian Stanshall.
This is done for two reasons. Firstly because these grotesquely surreal vignettes are among the greatest radio broadcasts of our age, and, more pertinently, because I can't hear Sir Henry Rawlinson's butler Old Scrotum described as "the wrinkled retainer" without snorting like a Swallow Bellied Mangalitsa with rabies.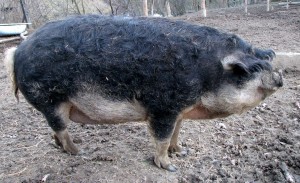 If you too have a favourite breed of pig, please feel free to add a comment.
Monkey Maffia – "Yo Baby Yo" (v/a LP – "Kompakt Benefit Compilation for Japan") (Kompakt Japan) availble from http://kompakt-japan-benefit.bandcamp.com/
Meat Curtains – "I Hate Rock n Roll" (Cassette – "Eden Disorder") (Scotch Tapes)
The Germs – "Sugar Sugar" (LP – "Germicide") (Bomp)
cp – "Smoke Crack With Whitney (Long Love Version)" (download EP "I've Been Really Trying, Baby") (Self Released)
Trap Them – "St. Peelers" (LP -"Darker Handcraft") (Prosthetic)
Marry Waterson and Oliver Knight – "Curse The Day" (LP – "The Days That Shaped Me") (One Little Indian)
African Headcharge – "Undulating" (LP – "Voodoo Of The Godsent") (On-U-Sound)
Vivian Stanshall – "An Absence of Whelks (Part 34)" (John Peel Session)
FFF – "Acceler8" (LP – 20,000 Hardcore Members Can't Be Wrong) (Murder Channel)
A Grave With No Name – "Streams" (7″) (No Pain In Pop)
Orchestre Poly – Rhythmo De Cotonou – "Ma Vie" (LP -"Cotonou Club") (Strut)
Duke Ellington and His Cotton Club Stompers – "Carnival In Caroline" (LP – 'Duke Ellington At The Cotton Club") (Storyville)