Two more shows for you as I continue my attempt to catch up to present day parity.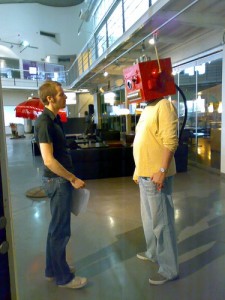 Show 155 saw the chocolate-throated thespian Pete Gallagher take time out of his schedule with the touring production of Oklahoma! – at that time playing at the Bradford Alhambra – to come and lark about with me in the studio for a bit. Pete and I have known each other since he brought life to a bloody great red robot called Tommy whilst I pretended to be a pretentious Nick Broomfieldesque documentary maker, and he's quite one of the loveliest and funniest people I have the pleasure of knowing and I'd very much like to lick him all over; made out of chocolate or not.  Quite why he's prepared to associate with a miserable shit like me is really anyone's guess.
You can view Pete's metallic appearance (and my wooden one, before anyone else does that joke) here:
 
Tommy The Tungsten Robot from Matt Clark on Vimeo.
Anyway, courtesy of this lovely Soundcloud player you can listen to these shows again for a limited period (probably about the length of time it would take to collect enough earwax to make a bust of Ronnie Corbett's head). Sadly due to copyright and such blah the show cannot be made available as a downloadable file.
Selection Box Show 155 by PatrickSelection_Box
Selection Box Show 155
Transmitted 8/11/2010
1. Billie Holiday – That Old Devil Called Love
from: The Collection
2. Clinic – Lion Tamer
from: Bubblegum
3. Thelma Houston – Baby Mine
from: Talcum Soul Volume 3 (various artists)
4. Tony Allen – Asiko
from: The Rough Guide to the Music of Nigeria & Ghana (various artists)
5. The Treniers – Poon Tang
from: Lux & Ivy's Favourites Volume 1 (various artists)
6. Ralfe Band – Women of Japan
from: Women of Japan EP
7. U2 – The Unforgettable Fire
from: The Unforgettable Fire
8. Gene Kardos & His Orchestra – Red Headed Baby
from: Rare Hot Dance: Music of the 1920s and 1930s (various artists)
9. Wailing Souls – Divided & Rule
from: Stranded
10. Cherry Ghost – We Sleep On Stones
from: Beneath This Burning Shoreline
11. King – Oriza
from: Tumbélé! Biguine, Afro & Latin Sounds from the French Caribbean, 1963-74 (various artists)
12. Dorsey Burnette – It's Late
from: Red Hot Rockabilly (various artists)
Selection Box Show 156 by PatrickSelection_Box
Selection Box Show 156
Transmitted 15/11/2010
1. Elbow – Fugitive Motel
from: Cast of Thousands
2. Orchestra Maravillas De Florida – Vuscame El Albanico
from: Vueva Vision: Latin Jazz & Soul From The Cuban Label Egrem / Arieto 1971 – 89 (various artists)
3. Donna Dameron – Bopper 486609
from: Good Girls Gone Bad (various artists)
4. Black Uhuru – Sorry For The Man
from: Black Sounds of Freedom
5. Pulp – Sheffield: Sex City
from: Intro
6. The Joubert Singers – Stand (Larry Levan Mix)
from: Aquarium Drunkard Presents Soul Sides (various artist)
7. Antony & The Johnsons – Thank You For Your Love
from: Swanlights
8. The Ambassadors – Oh, How I Love My Darling
from: Rare Hot Dance: Music of the 1920s and 1930s (various artists)
9. The Chocolate Watch Band – Are You Gonna Be There (At The Love In)
from: No Way Out
10. Tommy Willis – Mr Soul Satisfactionfrom: Kent's Cellar of Soul Volume 2 (various artists)
11. Local Natives – Who Knows Who Cares
from: Gorilla Manor
12. The Coal Diggers – Don't Throw Beer Bottles At The Band
from: Oh Yeah, It's Payday
13. Soulsavers featuring Mark Lanegan – You Will Miss Me When I Burn
from: Broken
Patrick Thornton presents Selection Box every Monday at Midnight.