I made it to the big one oh!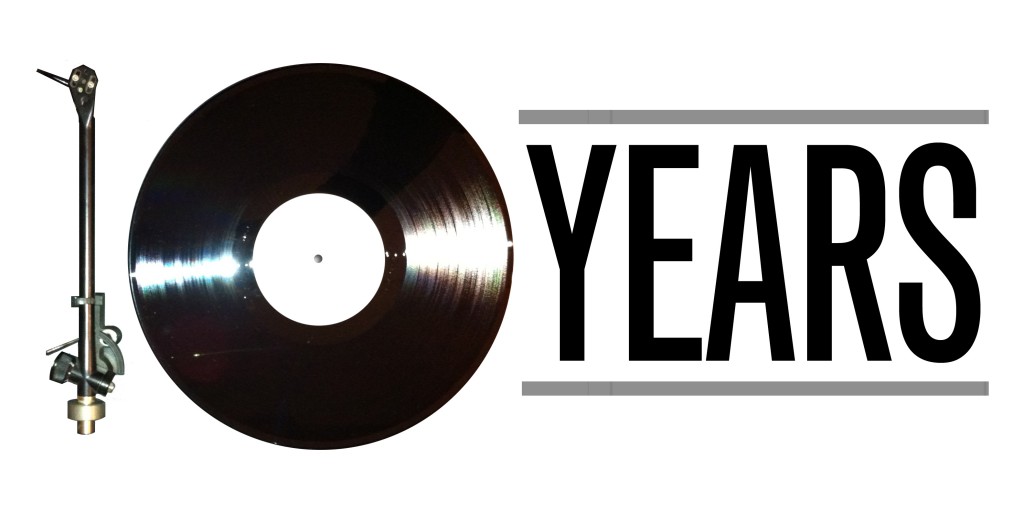 It is now 10 years since my first programme on BCB, and what a 10 years it has been.  While preparing for this week's anniversary edition I looked back over what I have achieved, and thought to myself…
"S**t, did I really do all that?!"
Eclectic Mainline has evolved a fair bit over my decade at BCB.  From starting to get a healthy number of new releases coming my way through 2004, I then had a frequent flow of interviewees on the programme in 2005.  The December 2005 edition of The Big Issue In The North ran an article under the title of "The Spirit of John Peel lives".  This cited my own programme as one of several on community radio stations that had a similar ethos to that of the late Peel. Discovering that article on Boxing Day was by far the best Christmas present I got that year.
2006 was a turning point for Eclectic Mainline, as I dipped my toes into the world of live sessions, and I had several session guests a year for the next 5 years.  I would say that those sessions made the years from 2006 to 2010 my purple patch on BCB.  In 2011, Laura Rawlings and myself were up against the big boys and girls of the radio world, as our live sessions won us a Radio Academy Awards nomination.
Good night, and thanks for listening
There have been a number of significant changes in my life over the past 10 years.  I owe BCB a great deal because doing this programme was one of the things that kept me going through a tough period in my life in 2005-6.  But there have been some positive changes over the past decade, and it is these which have led to me being far busier now than at any time since I joined BCB.  Hence not having time to record live sessions or interviews lately.  And hence my decision, a very tricky one to come to, that I am now going to leave BCB.  My last programme will be Wednesday 30th April.
I love BCB. I love the new music I hear.  I love doing this radio programme.   I love the fact that I am doing my bit to bring all this wonderful new music to people's ears.  I love meeting some of the musicians responsible for this music.  I will miss all of these things.  But it is time to move on as I have been wearing myself out, trying to do too many things in my life.  I want to have more time for friends, family, my band, my job and for myself.  If The Beatles had their way, and there were indeed 8 days in a week, I would not be leaving BCB.  But alas, for me, my time here is up.
During my first couple of years at BCB I put a lot of effort into trying to develop a career in radio.  That didn't happen, and to be honest this was probably for the best.  Volunteering in community radio has allowed me a freedom I may not have had if I was at the mercy of a commercial radio station or the BBC.  So, now that I am moving on, I don't regret not 'making it'.
When I was about 10, I would creep downstairs on a Sunday morning and turn on my mum's record player. I would then quietly play through everything in my growing collection of 7″ singles in a mock chart countdown. I can still remember the joy I felt on the day I actually had enough records for a full top 30 of my own to rival the Network Chart Show that I would always listen to on Capital Radio on Sunday evenings.  If I knew then that I would one day have my own radio programme, and it would run for 10 years, I would have been well chuffed.
Before I left, I wanted to compile a full list of the features I have had in the programme, so here goes…
Sessions
Howling Bells, James Yorkston, Nina Nastasia, Neil McSweeney, The Broken Family Band (twice), The Low Lows, 7 Hertz, Asobi Seksu, Yimino, Frightened Rabbit, Malcolm Middleton, Slow Club, Stephanie Dosen, Micah P Hinson, Sarabeth Tucek, The Travelling Band, The Wave Pictures, Neil Halstead, Brakes, My Latest Novel, Fools Gold, Choir of Young Believers, Gary Stewart, The Twilight Sad, Gregory and the Hawk, Les Shellys, Peter von Poehl, Darren Hayman, The Duke & The King, Sparrow and the Workshop, Lawrence Arabia, Danny & The Champions of the World, Trevor Moss and Hannah Lou, Fionn Regan, Mountain Man.
You can hear a few of those on my SoundCloud page.  I hope to put a few more up there, as I don't want those wonderful performances to be forgotten when I stop doing my programme.
Interviews
Mohair, Bloc Party (twice), Oeansize, Brendan Benson, Amsterdam, Teenage Fanclub, Arab Strap, Four Tet, The Warlocks, Echo and the Bunnymen, Longcut, Super Furry Animals, Stephen Malkmus, Half Man Half Biscuit, Shakin Stevens*, Elbow, The Cribs, FatCat Records, Regina Spector (twice), Richard Hawley, Bella Union Records, Billy Bragg, Black Rebel Motorcycle Club, Isobel Campbell, Mew, Low, The Drones, Beach House (twice), Grinderman, Fuck Buttons, Camera Obscura, Midlake, and probably a few more that I can't remember.  Oh, and my dad deserves a special mention for livening up one of my shows with his presence.
*for BCB's Drive programme, but still worthy of a mention!
Featured record labels
I also did a few special shows focusing on one record label.   These are the labels I featured: Creation Records, FatCat Records, Bella Union Records, Warp Records.
Some tunes to celebrate the past decade
My 10th anniversary edition of Eclectic Mainline included one tune from each of the years 2004 to 2013 (it was supposed to come right up to date to 2014 too, but I talked too much and ran out of time).  Picking just one tune from each year was by no means easy.  I could do another 10, or 20, programmes along exactly the same lines and the quality would not drop one bit.  You can listen to the full programme using Mixcloud, and below that you can read a little about each tune while watching the videos.
2004: Trashcan Sinatras – Weightlifting
From the album of the same name (Spin Art Records), this was actually the easiest one to choose.  This song has never been far from my mind since I first heard it.
2005: Boards Of Canada – Dayvan Cowboy
It was tough leaving out tunes by Half Man Half Biscuit, Teenage Fanclub and Mugison. But there was little doubt about this Board of Canada tune, from the LP The Campfire Headphase (Warp Records), being in the list.
2006: Camera Obscura – Lloyd, I'm Ready To Be Heartbroken
This was the first single from the Let's Get Out Of This Country LP (Elefant Records).  I could equally have picked tunes by Kode9 & The Spaceape, Midlake, Beach House, My Latest Novel or Burial.
2007: Phosphorescent – Wolves
Pride (Dead Oceans Records) is one of my favourite LPs of the past 10 years.  Also close to being selected from 2007 were tunes by Dntl, El-P and Burial.
2008: Why? – Fatalist Palmistry
From the excellent LP, Alopecia (Anticon Records). Other highlights in 2008 included Beach House, Fleet Foxes, Frightened Rabbit, Bon Iver, Cadence Weapon and Fuck Buttons.
2009: Fuck Buttons – Surf Solar
Fuck Buttons are one of my favourite British acts of the past 10 years, and are a lovely couple of chaps.  This one is from the Tarot Sport LP (ATP Recordings).  This was a really tough year to choose from.  I could easily have picked tunes by DiskJokke, Fever Ray or Au Revoir Simone.
2010: First Aid Kit – Hard Believer
Another tough year to pick from.  I was very close to playing something by either Beach House or Flying Lotus before settling on this one from First Aid Kit's LP, The Big Black and The Blue (Wichita Records).
2011: PJ Harvey – Written On The Forehead
There has been no better English LP over the past 10 years than Let England Shake (Island Records). That made this another easy one, but if it weren't for PJ Harvey's brilliant LP I might otherwise have picked something by Christina Vantzou, Josh T Pearson or James Blake.
2012: Sharon Van Etten – All I Can
From her third LP, Tramp (Jagjaguwar Records).  I swayed this way and that choosing something from 2012.  Goat and Julia Holter were both close to being picked.
2013: These New Puritans – V (Island Song)
Again a tricky one.  I narrowed it down to a shortlist including Bleached, The Cairo Gang and Jeffrey Lewis before settling on a tune from These New Puritans' Field Of Reeds LP (Infectious Records).
Thanks for listening, and for reading.
Main image credit: The photo was taken by me, and the design was created by Tilt Araiza.