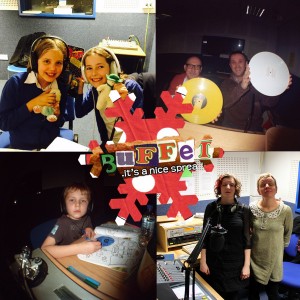 December 2014 was, inevitably, full of poorly colds and too much Cadburys, but Team Buffet soldiered on and accepted BCB's challenge for extra shows across the festive period. First up, we had a Mini Buffet. Jenny Jet's first born, Rowan, teamed up with her chum Ella to present a special Christmas themed show on the day itself. It included a lot of music, poetry and an interview about Christmas with Rowan's brother Luke. We were very impressed with their professionalism, something we're not accustomed to on Buffet, and especially loved how they filled 56 minutes with festive tunes then Boom! Electric Six as a closer. These kids are the future of radio.
Then Jenny Jet and Maria presented a typically shambolic sort-of end of year review, playing a few favourite tunes and discussing pop culture highlights from 2014. Perfume Genius and Kate Bush feature highly.
Finally, we teamed up with The Record Club to discuss their 2014 – what themes and records did they explore at their monthly vinyl event? Record Club is often a nostalgic treat, as well as an introduction to music you've not heard before, and this show reflects that. But please accept my apologies for the awful sound at the beginning – someone had wired the turntables so they bypassed the mixing desk, so it took a while to work out why the faders weren't working. Ooops! Poor Rob and Tony are drowned out at the start, but stick with it.
Thanks for reading/listening! Our regular Buffet is back on 25th January 2015 7-8pm. In the meantime, keep in touch over on Twitter and Facebook.
Have a fabulous 2015! x